Hawaii COVID Contact Tracking Surveys
You can help stop the spread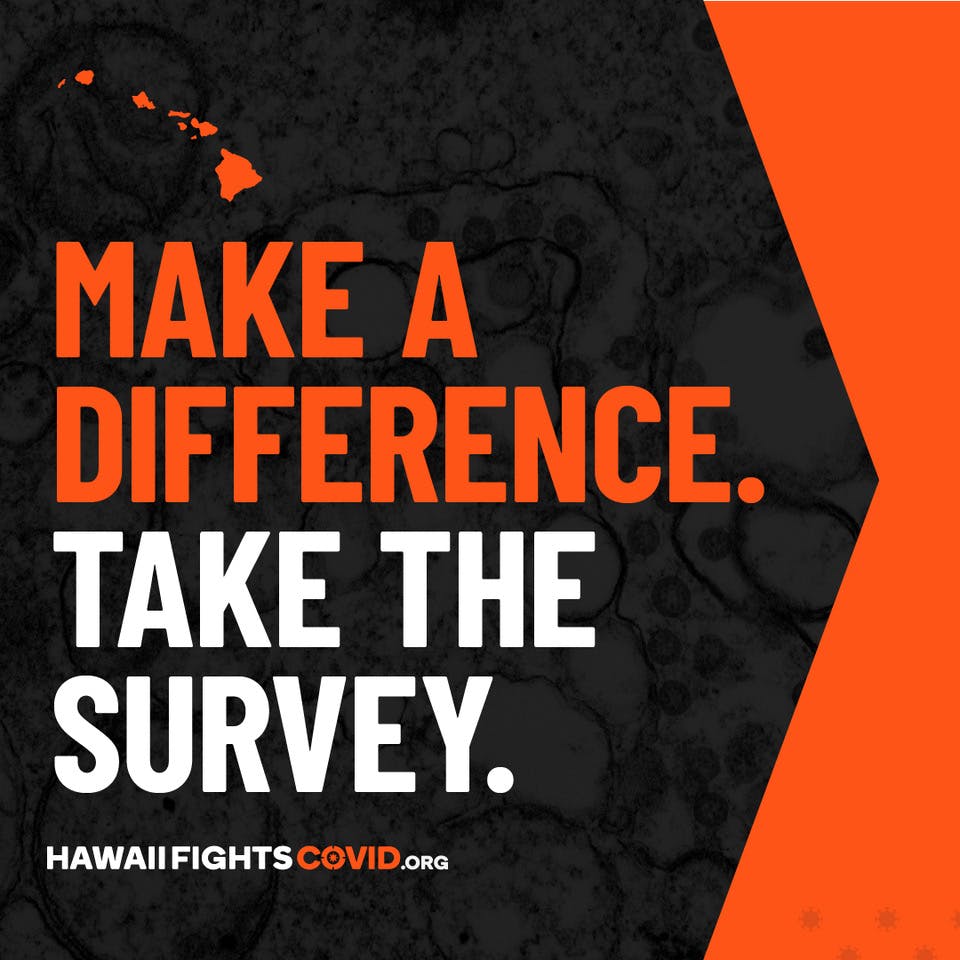 How to share on Instagram
On your phone…
Tap and hold the image above
Tap Add to Photos or Download image
Open Instagram and post the image
Tag @hawaiifightscovid and use #TrackTheVirus
Open Instagram
What is Contact Tracking?
Contact tracking is a method for tracing the spread of a virus in our community. It relies on self reporting and patient memory to identify those potentially infected so they can be isolated early, slowing the spread of the disease.
Why Is It Necessary?
Our state can only conduct a limited number of tests each day. We need to do this now because if COVID-19 becomes more widespread, it may become more difficult to track infected people and who they came into contact with.
Key Numbers in Hawaii
Hawaii is at high risk because of our remote location, limited number of medical facilities and global shortage of medical supplies and personnel due to the pandemic.
FAQ
Who is running this survey?
The University of Hawaii (UH), National Disaster Preparedness Training Center (NDPTC) and the Pacific Urban Resilience Lab (PURL) with many community partners are conducting this survey. The research protocol has been reviewed and approved by the Institutional Review Board (IRB) of the University of Hawaii.
How is my information being used?
The information will be used to track the spread of COVID-19 in Hawaii. The results of the survey will help the team to identify people who may have been exposed to the virus. All data will be strictly confidential.
Are my responses confidential?
YES, all data collected is strictly confidential and will be kept in a secure database.
I already completed another survey on COVID-19. Why should I participate in this survey?
We can't speak to the authenticity or validity of other surveys being conducted. Our survey is being conducted by experts at NDPTC/PURL at the University of Hawaii (NDPTC).
Does every person in the household need to complete the survey?
We strongly encourage every individual over 18 year of age to complete the survey since some household members may have had different experiences or encounters than others. 
Will I have to take the survey again? 
As the situation with COVID-19 continues to rapidly change this survey may have to be done in waves to allow researchers to better identify where the virus has spread.
Will the results be shared publicly?
Yes, we hope to share the overall results from the survey with the public as soon as we are able to.
Contact
For more information about the survey, please contact:
National Disaster Preparedness Training Center
Dr. Jiwnath Ghimire
Mr. Eric Yamashita